596 Views
October 20, 2015
5 Highly Priced Hotels In Abuja
In Abuja, there are different categories of hotels; those that are of 5 Star standard, and those that fall short of this status. All 5 Star hotels should necessarily have quality shuttle services, good swimming pools, restaurants and bars, excellent auxiliary services, internet, and other hospitality services that should give guests a 'home away from home' experience. This article features a number of such hotels in no particular order:
Transcorp Hilton Hotel Abuja
This is the most prestigious hotel in Abuja and even Nigeria. It is a first-class hotel among all 5 Stars and one can understand why a night stay there goes for $300 USD. With all facilities in place, this hotel is a destination of choice for people looking to have first-class hospitality delivered to them while in Abuja. By all standards, its rooms, swimming pool, restaurant and other recreational facilities are the best on offer. The Transcorp Hilton Hotel is located opposite the architecturally deifying NCC building in Maitama, so it is a place that can not go unnoticed.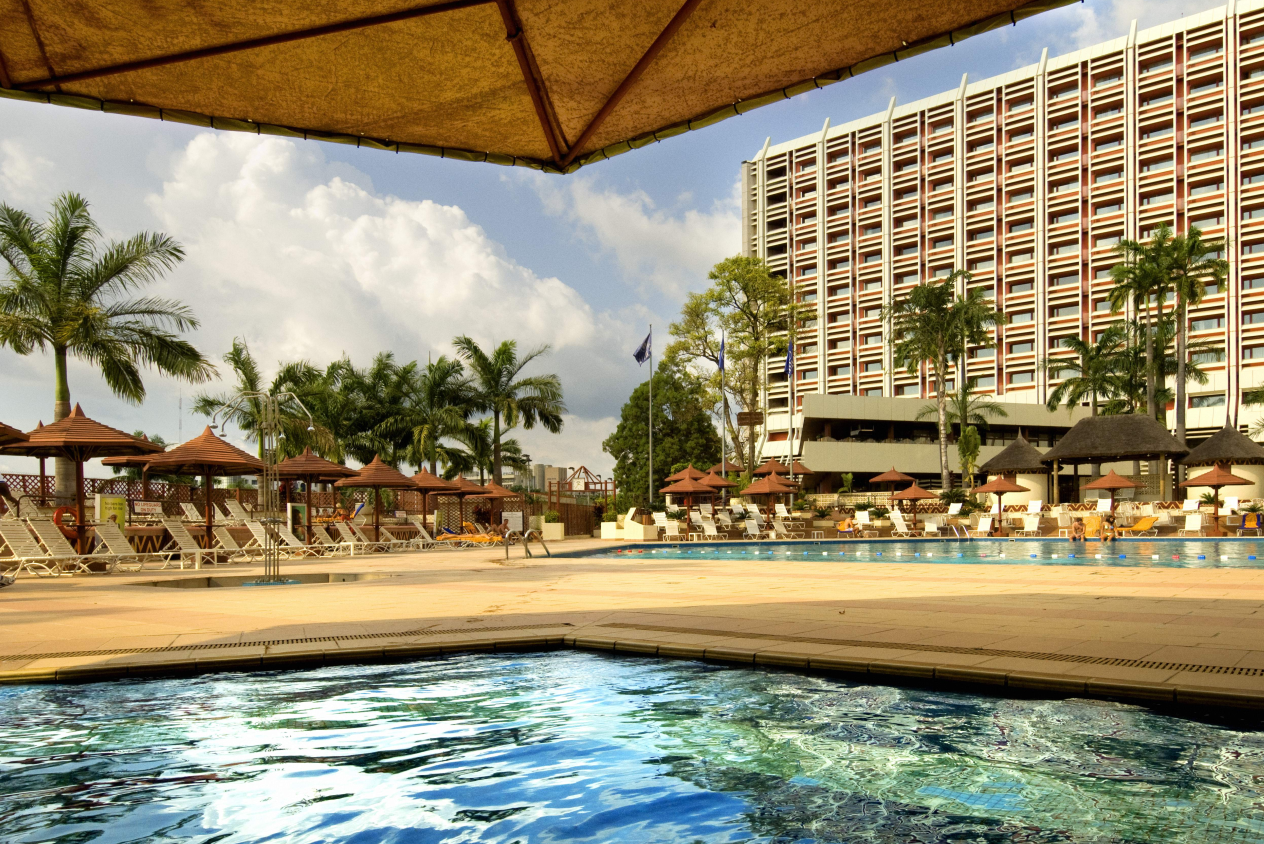 Transcorp Hilton Hotel Abuja.
Nicon Luxury Hotel (Area 11)
NLH, as it is sometimes referred is relatively the youngest hotel compared to other top hotels in Abuja. It has over 250 rooms and luxury suites, swimming pool, and other support services to match the customer services rendered. This hotel is the right fit for first-class hospitality, and it is still trying to meet up with the likes of other top hotels in Abuja like Sheraton, Transcorp, and Protea in terms of services. It is still a suitable port of call for guests to Abuja who can afford the rates between $350 USD to $1,200 USD per night.

Nicon Luxury Hotel Abuja.
Abuja Sheraton Hotel and Towers
Situated in the strategic Zone 4 of Wuse district just on the major drive that leads to cultural area, sits the Abuja Sheraton Hotel and Towers. This hotel is a 5 Star that is well patronized by government organizations for hosting major events in the city. But even more interesting, it appeals to foreigners who come into the country for different purposes while on an official visit to Abuja. The hotel has an Olympic size pool, posh rooms, excellent services, and ample auxiliary services to match guests needs. A night at this standard quality hotel goes from $300 USD.

Abuja Sheraton Hotel and Towers.
Reiz Continental Hotel (Central Area). Among all top class hotels in Abuja, Reiz is the least accomplished because it does not command the same reputation as the rest hotels, but it still recognized as a first-class hotel. Upon checking in, guests are bound to have access to everything a standard Abuja 5 Star hotel should have, only that it is too close to the expressway, and share vicinity with CBN, NNPC, NDC, and so on. Not that there is anything wrong with that since others also do, but for the noise factor during daytime, guests should be prepared.

Reiz Continental Hotel Abuja.
Protea Hotel Asokoro. Like other standard quality hotels, Protea in Asokoro does not disappoint in offering first-class services at a reasonably priced amount. Guests will have to compare rates and quality of services rendered to see that the Protea is not a bad choice for $300 USD per night almost as expensive as Transcorp Hilton Hotel. It is still a perfect alternative for people who want first-class hotel services in Abuja.

Protea Hotel Asokoro.
With this review on these hotels in Abuja, one can agree they are expensive, but at the same time, guests can plan a visit to the capital territory to have a worthwhile experience of high quality and standard.