651 Views
August 18, 2016
8 Nigerians Representing Other Countries at Rio Olympics
Nigeria has failed to harness some of her vast human resources who have since pledged allegiance to other countries at the Rio 2016 Olympics in Brazil.
At the Rio Olympics 2016, there are about 11,550 athletes participating, from 207 nations. Some of these athletes feature for countries other than their country of origin.
Here are 8 Nigerians competing for other countries at the Rio Olympics 2016:
1. Femi Ogunode – Qatar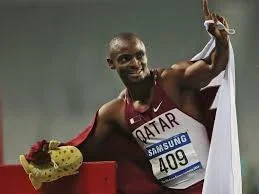 Femi Seun Ogunode was born on 15 May 1991 in Ondo state, western Nigeria. He ran for University of Ibadan and qualified for the 2007 All-Africa Games and the 2008 Summer Olympics.
However, the Athletics Federation of Nigeria left him off of the final rosters for both events for undisclosed reasons. Following these, Ogunode accepted an offer to compete internationally for Qatar.
2. Oluwakemi Adekoya – Bahrain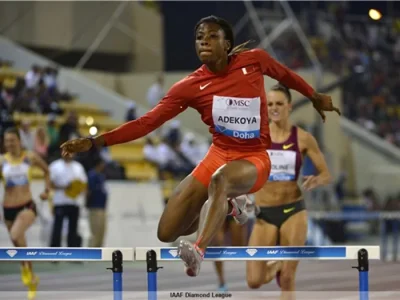 Oluwakemi Adekoya was born on January 16, 1993. She originally ran for Nigerian since 2011, but due to dissatisfaction with how the country treated athletes Kemi defected to Bahrain.
3. Ezinne Okparaebo – Norway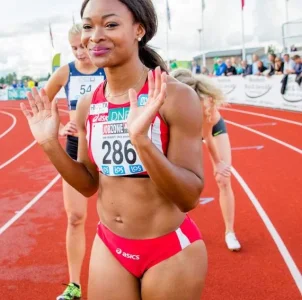 Ezinne Okparaebo was born on March 3, 1988 in Imo state, Nigeria. She is a Norwegian track and field sprint athlete. She has been living in Norway since the age of nine, and identifies as Norwegian. She has been representing Norway since 2008. This 2016 Olympics she won no medals, completing the women 100m event in 11.43s.
4. Keturah Orji – USA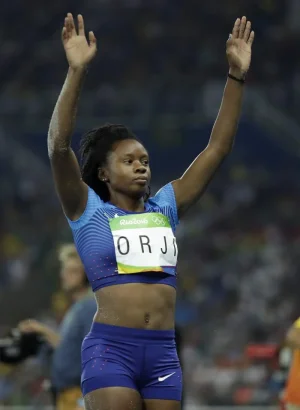 Keturah Orji Keturah Orji was born on March 5, 1996. She is an American track and field athlete specializing in the triple jump. Orji grew up in Mount Olive Township, New Jersey and graduated from Mount Olive High School in 2014. She placed fourth in the triple jump at this year's Olympics.
5. Ayomide Folorunso – Italy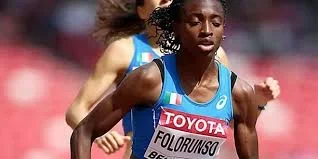 Ayomide Folorunso was born October 17, 1996. She is from Abeokuta, in Ogun state, Nigeria. She now has Italian nationality and runs in the 400 metres hurdles race for Italy. She has made it to the Semi finals at this year's Rio Olympics after coming 9th.
6. Barbara Nwaba – United States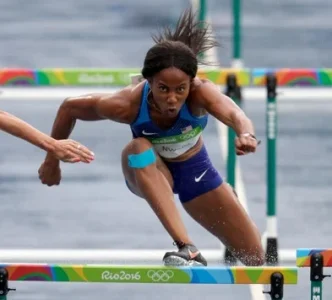 Barbara Nwaba of the United States shows her dejection after falling in the Women's Heptathlon 100 metres hurldles during day one of the 15th IAAF World Athletics Championships Beijing 2015 at Beijing National Stadium on August 22, 2015 in Beijing, China. She is yet to win any medal in 2016.
7. Morolake Akinosun – USA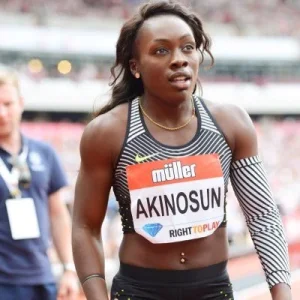 Morolake Akinosun, born May 17, 1994 in Lagos, Nigeria is no small athlete. She is an American track runner who is currently participating in this year's Olympics. She will be running a Relay race on Thursday, August 18.
8. Paola Ogechi Egonu – Italy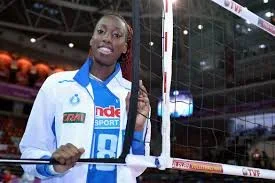 Paola Ogechi Egonu was born on 18 December 1998 in Veneto, Italy to Nigerian parents. She is an Italian female volleyball player. She is part of the Italy women's national volleyball team and she was awarded 'best outside Spiker' at the 2016 Europe Olympic Qualification Tournament . Her team beat Puerto Rico 3- 0 in their last match.
Source: Stella Naija