Abuja-Kaduna Railway: 6 Important Things Every Nigerian Should Know Before Travelling
On Tuesday, President Muhammadu Buhari inaugurated the Abuja-Kaduna railway for commercial operation. Railway is relatively one of the safest modes of transportation. It is also reliable. Unlike airplanes, bad weather rarely affects train. The Kaduna-Abuja railway system was conceived and started by the erstwhile administration of President Goodluck Jonathan but completed by the current administration of President Buhari. The rail system is expected to better the nation's transport system, and foster social integration. Here is a look at important things you need to know before you travel by it.
1. It's Nigeria's first high-speed Railway – This landmark achievement is Nigeria's first high-speed rail. It will run on speeds greater than 100 km/hr for both cargo and human coaches.
2. It is Nigeria's first Standard Gauge Rail:The Abuja-Kaduna rail track is Nigeria's first ever standard gauge rail. It's 186 kilometer long. The distance between the inside edges of the rails is defined to be 1,435 millimetres (4 ft8 1⁄2 inches). 55% of the rail lines in the world have standard gauges.
3. It Can Convey 380 Passengers: The standard gauge rail network has four coaches that can convey 380 passengers. This will be done with two economy coaches and one business coach.
4. The Railway Has Five Stations: Starting from Idu, the train's main station in Abuja and ends at Rigasa in Kaduna State, the rail has nine stations. The nine stations include; Idu in Abuja; Kubwa, Jere, Rijana and Rigasa in Kaduna State.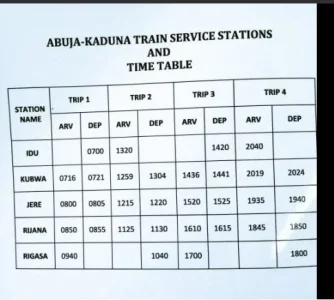 5. Transport Fare: Just as it is with travelling by air, the rates of fares on this new train differ. For the business coach, it is N700, while the Economy coach is charged at N500.
6. Number of Trips: The train can only go on four trips in a day with varying arrival and departure time.