Fatima Kabir, a 15-year-old ex-wife of the factional leader of Boko Haram, Maman Nur, said she was infected with HIV/AIDS after she was forced to have marathon sex with many sect members at the group's Sigil Huda camp, Sambisa Forest.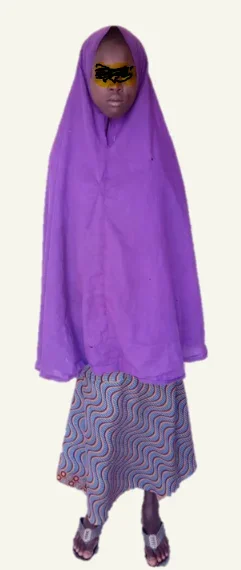 Kabir and her 14-year-old accomplice, Amina Shua'ibu were arrested by officers of the Nigeria Security and Civil Defence Corps (NSCDC), Borno State command on Friday night. At the time of her arrest, she was also discovered to be two months pregnant for a sect member.
Speaking with The Nation in Maiduguri, Borno capital, Kabir that she was an ex-wife wife to Nur and that she was introduced to the group by her brother, Ibrahim Fadagana, in 2013.
"My brother took us from Maiduguri to Sambisa forest where he introduced us to Abubakar Shekau. Things did not go well at the camp as most of the people did not like Shekau's brutal treatment of abductees and sect members in the camp. There was a lot of death in the camp. Children died of dehydration and malnutrition.
"So, there was a lot of disagreement between Shekau and Mamman Nur and Nur refused to accept Shekau's policies. So they broke up. My brother (Fadagana) was a close friend to Mamman Nur, so he stood as my father and got me married to him (Mamman Nur). I was married to him in 2013. I was 12 years old at the period," she said.
Kabir lamented her experience as Mamman Nur's wife: "On the wedding night, Mamman Nur forced himself into me and destroyed my vagina. He infected me with Vesico Vaginal Fistulae (VVF). I was sick for a while, but I became better.
"In that same year, 2013, he left me to participate in an arms and military training program in Libya. I couldn't wait for him, so I immediately got married to Habib, a member from Bauchi State.
"Habib later ran away because he was marked for execution. He was suspected to be an informant for the Nigerian government. So he deserted me and absconded from the camp.
"I later got married again to one Ali Bama. He was not a Commanding Officer. He was just an ordinary member like the others.
Until her arrest in Maiduguri, Bama took good care of her. "He has protected me and provided food for me at our Sagil Huda camp in Sambisa Forest. I am presently carrying his two months pregnancy," she revealed.
Life in Sagil Huda was very difficult "especially for us (women)," stressed Kabir. "The men always sleep in the afternoon and do marathon sex with all the girls for the whole night. Only those that are married are safe.
"At a point I became sick, so a French doctor came to check on me. He gave me some drugs and said I must be taking it from time to time.
"I learnt that I was infected with HIV/AIDS. I don't know if I got it from the marathon sex or from the three husbands I married. My current husband, Bama, was also taking his own drugs just like me before I left our base. We are both infected," she said.