134 Views
August 11, 2016
Governor Ambode Commissions First Medical Helicopter Emergency Service in Nigeria (Photos)
Lagos State Governor, Mr. Akinwunmi Ambode on Thursday commissioned the first state-owned Helipad for medical emergencies in Nigeria at the Lagos State University Teaching Hospital (LASUTH), Ikeja.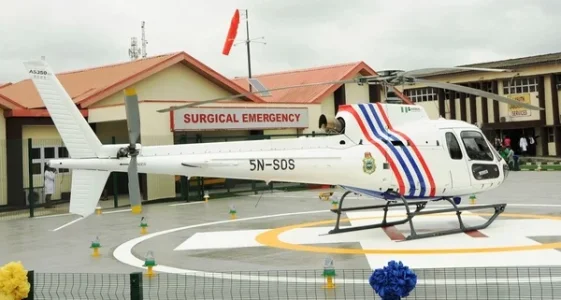 In his remark, Governor Ambode said the 'Helipad being commissioned today is a lifesaving asset and critical complement to the efficient functioning of this Unit and other emergency services being rendered by the State.
"Over the years, we have witnessed emergency situations which require timely movement of victims to appropriate medical facilities. Keeping in mind that every minute matters in securing the lives of people involved in these incidents, the usual movement by road is not the best option in such situations. Helicopters have therefore become an efficient and reliable option which can only be made possible with the availability of helipads within the hospital environment," he noted.
See photos below: