716 Views
November 18, 2015
Meet Meet 10 Nigerian Female Celebrities Married To Foreign Husbands
Below is a list of popular Nigerian female celebrities who are married foreigners husbands. According to reports, some of them are now divorced while others are still enjoying their matrimony.
10 Nigerian Female Celebrities Married To Foreign Husbands:
1. Uche Jumbo and Kenney Rodriguez (Puerto Rican)
Nollywood star, Uche Jumbo (Abriba, Abia-State-born) walked down the aisle with her US-based Puerto Rican husband, Kenny Rodriguez, in a low-key wedding that took place on the shores of Puerto Rico, in the north-eastern Caribbean on May 16, 2012.
The couple has been living happily ever after with a cute baby, Mattew Rodriguez, to show for it.
2. Kate Henshaw and James Roderick Nuttal (British)
Nollywood actress Kate Henshaw (Cross River State born) got married to a British born James Roderick Nuttal in 1999. The couple had their daughter and only child Ella Nuttal in 2000.
Unfortunately, the star actress and her British husband, Nuttal are no longer together as husband and wife. The multiple award-winning actress and Mr Roderick parted ways amicably in November 2011, following 'irreconcilable' differences.
3. Ufoma Ejenabor and Steve McDermott
It's been five years since actress and former beauty queen, Ufuoma Ejenobor (Delta State born) and her husband Steven McDermott tied the knots.
Today, the lovers are gradually building a formidable family after the birth of their baby boy, christened, Isio Jared McDermott and their adorable baby girl, Kesiena.
4. Chioma Toplis and Andrew Toplis (British)
Since the Abia State born actress came to limelight after settling down with Andrew Toplis, a UK born Engineer, she has been battling with allegations of unstable marriage.
But the big, bold and beautiful mother of three (two girls and a boy) with a towering height is never tired of defending her home, which she described as the type any woman could dream of.
5. Regina Askia and Rudy Williams (American)
Nollywood actress and ex beauty queen, Regina Askia secretly married her American-born husband, Ruddy Williams some years back.
The union shocked a lot of her colleagues and admirers because the news of her white wedding, which was witnessed by a selected crowd, was quite unexpected, as it came on the heels of her controversial break-up with an Igbo big boy, Charles Okorie.
6. Anita Hogan and Ted Mark (Dutch)
Anita Hogan, a star of Nigeria's TV reality show, wedded her lover Ted Mark on October 18, 2006. According to reports, the wedding took place at a registry in Eti Osa Local Government Area in Ikoyi, Lagos.
7. Susan Peters and Dr. Croon (Dutch)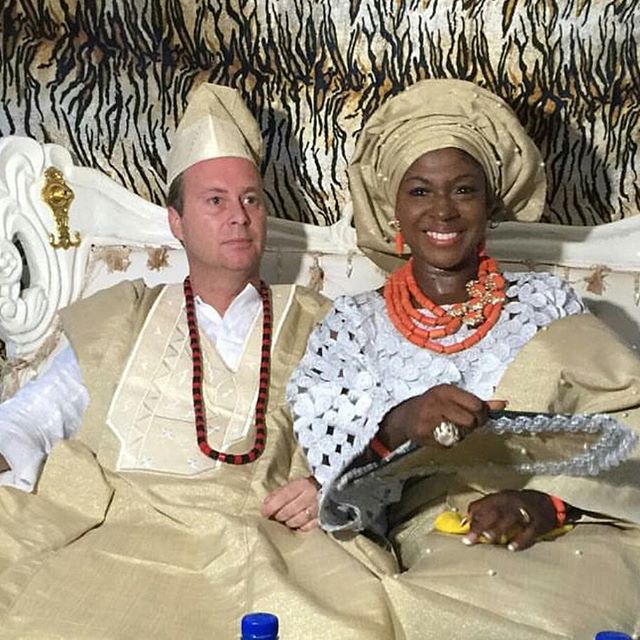 Susan Peters and her Dutch husband, Dr Croon tied the knot traditionally on Saturday, October 24, 2015, in Benue State.
Susan and her beau are said to have been friends for almost a decade before they decided to take their relationship to the next level.
Susan and Dr Croon went to the marriage registry to legalise their union on Saturday, October 10, 2015 in Lagos. The two lovebirds are still savouring their honeymoon.
8. Tosyn Bucknor and Aurélien Boyer (French)
Popularly called 'Area Mama', On-Air-Personality with Top Radio FM, Lagos, Tosyn Bucknor tied the knot with her long time French husband on Sunday, November 15, 2015.
Tosyn Bucknor and Aurélien Boyer had their traditional wedding and was attended close family members and friends.
The event was planned by the Tosyn's sister Funke Bucknor-Obruthe of Zapphaire Events and among the guests were Gbemi Olateru-Olagbegi, Toolz and Sasha. The couple got engaged in August after dating for 2 years.
9. Karen Igho And Yaroslav Rakos (UK)
Karen Igho, former winner of Big Brother Africa, got married to her UK lover Yaroslav Rakos in Jos on Saturday, December 13, 2014. According to reports, couple dated for nine years. Karen delivered a baby boy at the Mount Sinai Roosevelt hospital in New York on the July 4, 2015.
10, Ashionye Ugboh and Carl Raccah
Actress Ashionye who once claimed destiny pushed her to marry a foreigner, wedded six years ago after dating for over 14years.
Nollywood actress cum singer, Ashionye and her husband, Carl Raccah welcomed their second child on August 14, 2015, They have two kids together now; a boy and a girl.
Our Pick
Art, History and Culture
396 views