660 Views
1 Comments
November 27, 2015
Top 7 Nigerian Entertainers Who Took After Their Fathers
Looking at the honourable family of Fela Kuti, the grand founder of Afrobeats music genre, you will believe with me that music runs in the blood. With other families coming into play, let's look at the top 7 Nigerian entertainers who took after their fathers.
1. Femi Kuti and Seun Kuti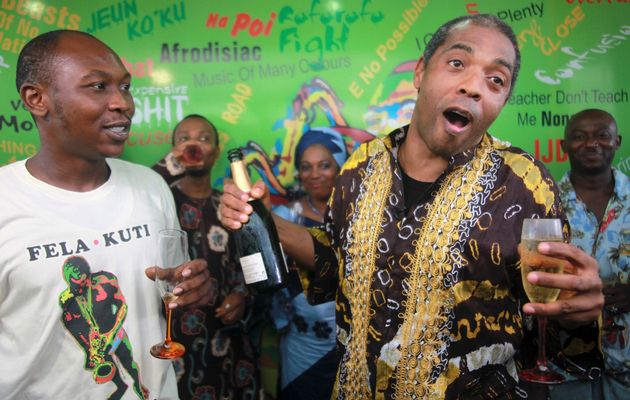 Femi and Seun are the children of Afrobeat founder, Fela Anikulapo Kuti. Since their father's demise, the two have kept the fire of Afrobeat burning and are clearly the most successful Afrobeat musicians around today.
Femi started playing the Saxophone at 15 and eventually became a member of his father's Egypt 80 Band before forming his own band, The Positive Force in the late 1980s. He did this with Dele Sosimi (Gbedu Resurrection), former key-board player of Fela Anikulapo Kuti and like his father, has shown a strong commitment to socio-political issues in his career so far and with 4 Grammy nominations to his name.
On his part, Seun Kuti, said to be most similar to Fela in words and deeds, continues to evolve and has become a strong voice calling for social reformation in Nigeria and Africa. He is always on the road, performing in tours and festivals across the world.
2. Paul Play Dairo
He is the son of late Isaiah Kehinde Dairo popularly known as I.K Dairo, a prominent Juju musician who rocked the Nigerian music scene between 1960s and late 1980s.
I.K. Dairo's unique style of jùjú music earned him the admiration of Nigerian music lovers especially the Yorubas and Paul Play was able to get his big break in the music industry toeing the path of his father.
Noted for his versatility and vast music knowledge, he remixed one of his late father's most popular songs, 'Mo So Rire' but has shown he can hold his own with a number of hits of his own also. Notably one of the pioneers of the vastly growing pop movement, it is difficult to forget Paul Play's 'Angel of my life', 'Happy Day', 'Forever' among others.
3. Darey Art Alade
He is the son of late Modupe Arthur Alade popularly known as Art Alade, a famous Nigerian highlife/jazz artiste in the 60s and 70s.
Darey Art Alade's late dad, who attended the London TV College, was also the amiable presenter of the late 1970-80s popular NTA programme, the Bar Beach Show.
Boasting awesome talent of his own, Darey adopted his father's stage name which helped him a great deal at the start of his career. Like his dad, he also started as a presenter before hitting the limelight after emerging 2nd runner-up on Project Fame 2004. Not done with music by any means, he has 3 successful albums and over 10 awards to his credit so far. His biggest hit, as many would attest, remains the chart topping 'Not the girl'.
4. Dr Sid
Sidney Esiri best known as Dr Sid is the son of late Justus Esiri, the famous Nollywood actor who died in February 2013. The older Esiri was popular for his role in the popular 80s sitcom, 'Village Headmaster' and contributed in no small measure to the growth of Nollywood till his death just 2 years ago.
His son, a member of the Supreme Mavin Dynasty, led by Don Jazzy has continued to keep the family legacy alive in the entertainment industry though on the music lane. If his body language is anything to go by however, no one can rule Dr Sid, who recently returned from the New York Film Academy, out of acting.
5. Barry Showkey and Barrymade
Wale Akanji Barrister aka Barry Showkey, a Fuji musician and Modinat Asabi Ademola popularly known as Barrymade, an Islamic gospel musician are the kids of late Sikiru Ayinde Barrister.
Widely regarded as the originator of Fuji music, Barrister is no doubt one the best musicians to have ever come out of Nigeria. Though he is late, his influence on the Fuji music scene where he is a revered figure remains very strong.
Barry Showkey, a former Kennis Music act, is now based in the US and leads his father's Mr Fuji Memorial Band while Barrymade, who became famous by featuring her father on her debut album many years ago, is equally doing well in the entertainment industry.
6. Big Sheff
Sheriff Ilori aka Big Sheff is a rapper who appeared on the scene last year. The rapper, who bears an obvious resemblance to American rapper, Rick Ross in several areas, is the son of two of Nigeria's music legends, General Kolinton Ayinla and Queen Salawa Abeni.
General Kolinton Ayinla fondly called Kebe N'Kwara is one of founding fathers of Fuji music while Salawatu Abeni is the foremost Waka musician.
It's easy to conclude that Big Sheff couldn't have done anything else without at least taking a shot at music.
7. Clarence Peters
Leading music video director and founder of Capital Hill, one of Nigeria's top record labels, Clarence is the son of charismatic Afro Juju star, Sir Shina Peters, and hugely talented thespian, Clarion Chukwura.
With the creative world having converged for Clarence through his widely recognised dad noted for his music writing, choreography and performance ability and his multiple award winning actress mother, Clarence's involvement as label executive and cinematographer is not surprising.