Hello Naturalistas – we have something inspirational for you! BN Beauty is here with 10 fun, flirty and above all, natural hair ideas from a naturalista we love to watch – Omoni Oboli.
Omoni has been a naturalista for a long while now and shows off her natural tresses on her social media pages; and even has an Instagram account dedicated to her curly hair – @OmoniCurls.
Today, we are sharing some our favourite styles from the actress so you can get some inspiration for the weekend.
Enjoy!
***
Curly Top Puff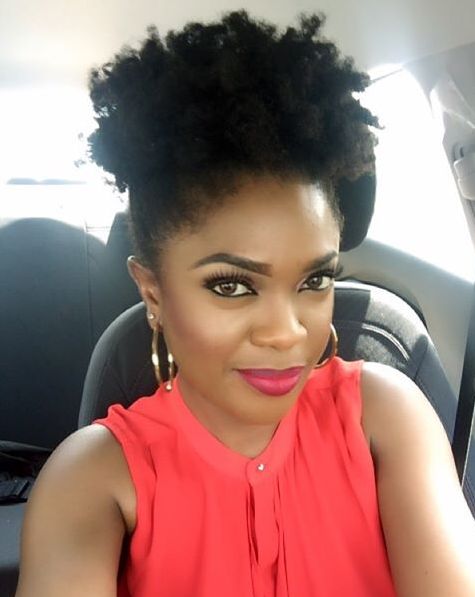 One thing we noticed about Omoni is she is a fan of the top puff. She loves the sleek edges and definition the style gives and often puts a spin on the look with different sizes or types of curls.
This looks is very wearable – it works for a variety of occasions and is super easy to achieve. You can get it from an old twist-out, or even just pack up your strands and create bantu knot-outs or 2-strand twist-outs to achieve the curls. Just be sure to use some edge control/tamer to get the best looking result.
Free Twists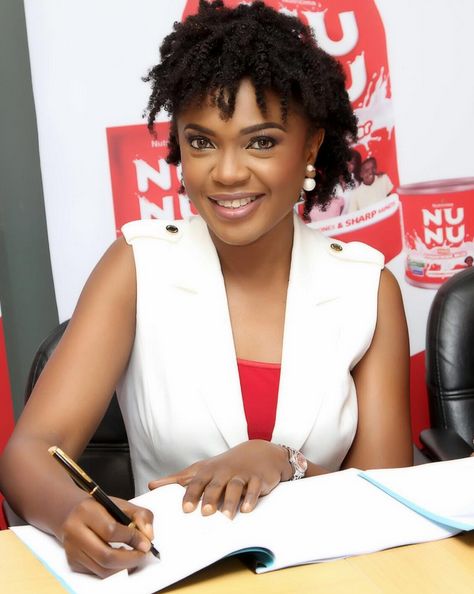 This look is for the free & wild at heart. If your hair wants to run wild, let it…just offer some guidance it with some hair pins and you can recreate this look easily.
Omoni rocked this look while signing on as a Nunu Milk ambassador – this goes to show there are not limits to where this style can be worn. However, if your office is a bit strict, you might want to tuck some flyaways into place.
The Crown Braid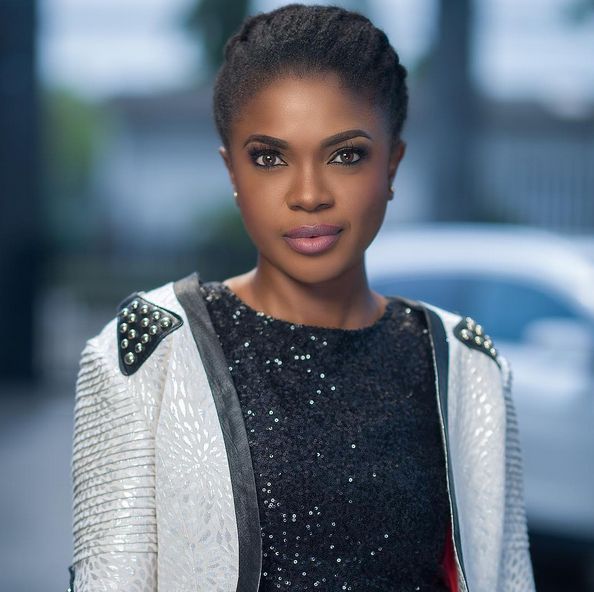 Don't feel like having any strands loose? How about trying out this crown braid like Omoni?!
The looks is very easy – all you have to do is brush your hair towards the middle of your head, then braid from left to right or right to left and tuck the tail of that braid in with a bobby pin. Easy!
Another Curly Top Puff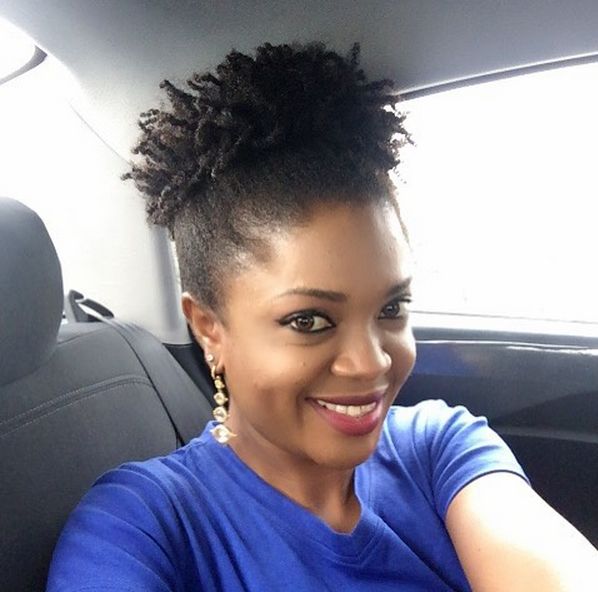 We told you she loved the top puff.
This time Omoni rocks the look with more definition at the tips. After a 2-strand twist-out, she packed up her strands and let the twists stand out individually at the top. So lovely – we love it!
Tucked Twists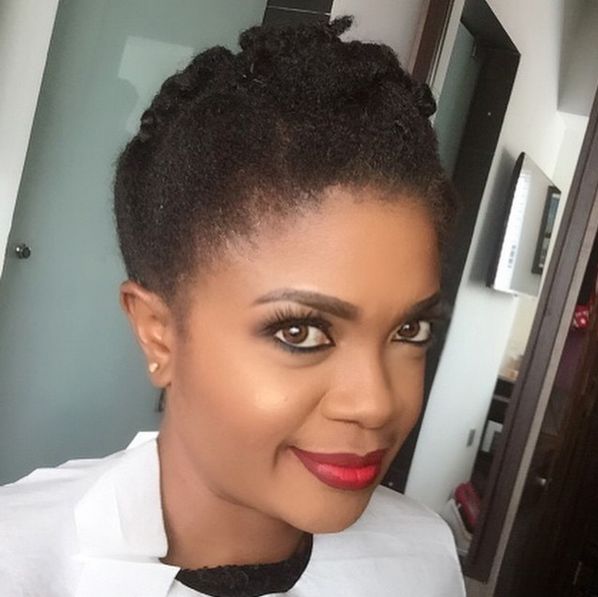 Here's an idea for you if you haven't taken out your 2-strand twists yet.
If you need to rush out the door and don't have time to untwist, you can tuck the strands into the top of your head and secure them with bobby pins. The look is very minimal and simple, and you can jazz it up with some stylish hair pins for a more glamorous look.
Cornrows with a Twist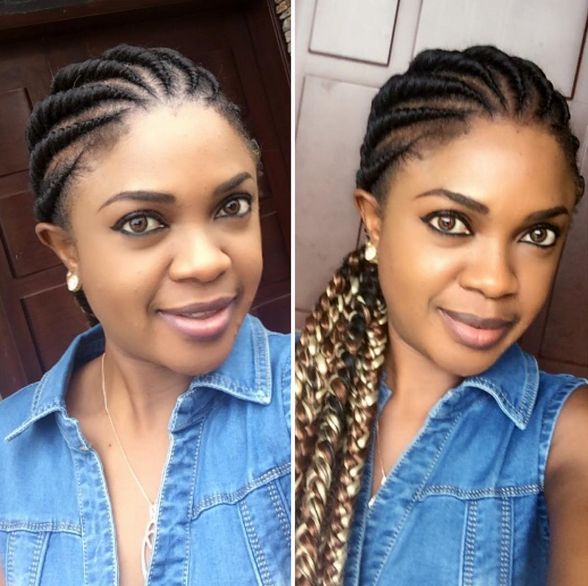 How about spicing up your cornrows with a bright colour like Omoni. While promoting her new movie with Alexx Ekubo – 'The First Lady', Omoni opted for something fun and easy for her touring duties.
Here, she's rocking simple cornrows but added some bold colours with hazel brown and blonde at the ends of the braids. If you like loads of colours, you can create your own colour mix too.
The Side Bang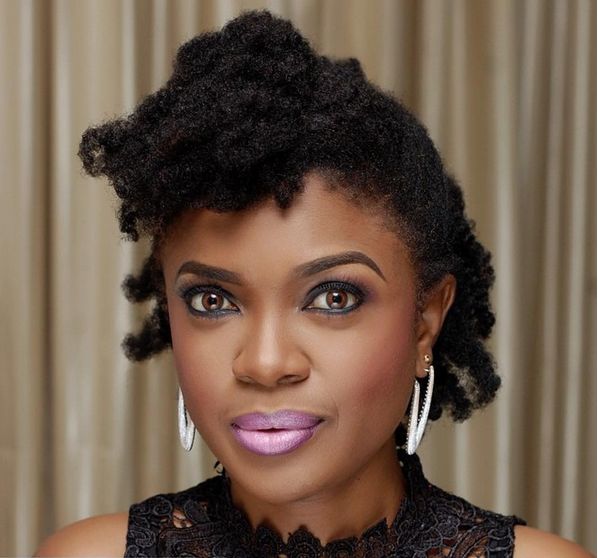 Doesn't she look pretty in this photo?!
For a Nollywood event, Omoni opted for this fun & flirty look which featured a side bang. The reas of the hair had minimal styling, with the middle packed in the centre and left to dangle with the back of her hair. Simple and fun!
A Good 'ol 'Fro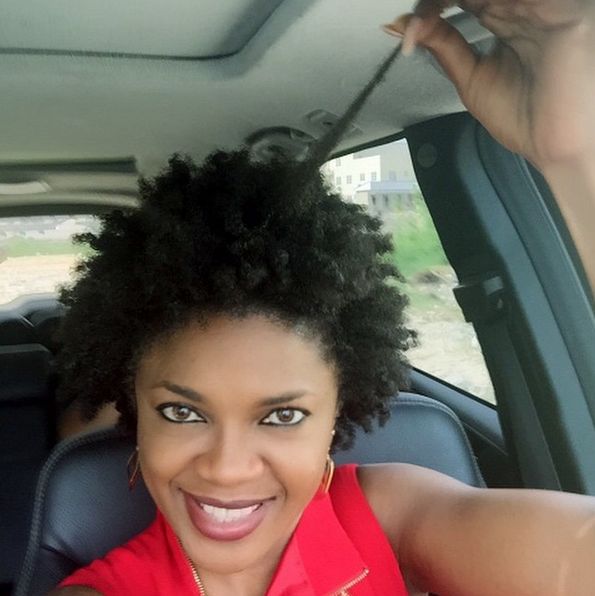 Sometimes, the 'fro is just the way to go.
Showing off her hair length, Omoni rocked this fun & laid back look for a relaxed day out on the town. Though her hair still has some definition, you can either rock this look with your natural curl, or create some bantu knot-outs or twist-outs.
The Hawk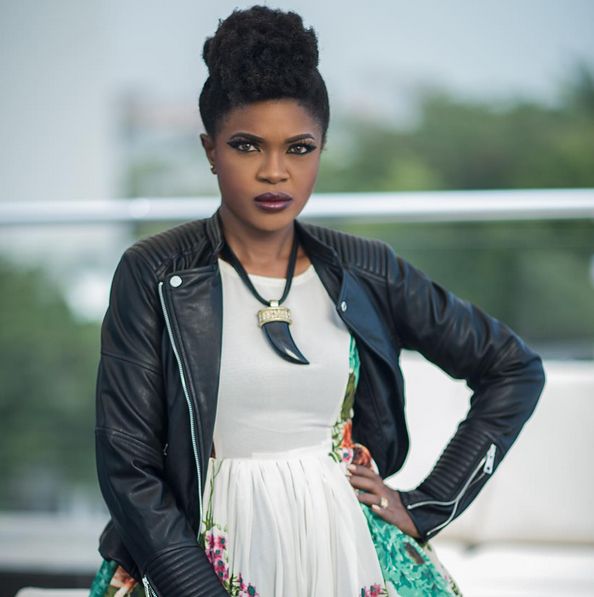 Talk about 'edgy'!
For a photoshoot, Omoni channeled her inner wild child with this funky mo-hawk recreation, and completed her badass look with a leather biker jacket and edgy makeup.
To create this look, simply comb your hair towards the middle of your head, and secure the right side of your head from front to back with bobby pins. Then repeat the same thing on the left side. Don't forget to tame those edges for the best look.
Tucked Puffs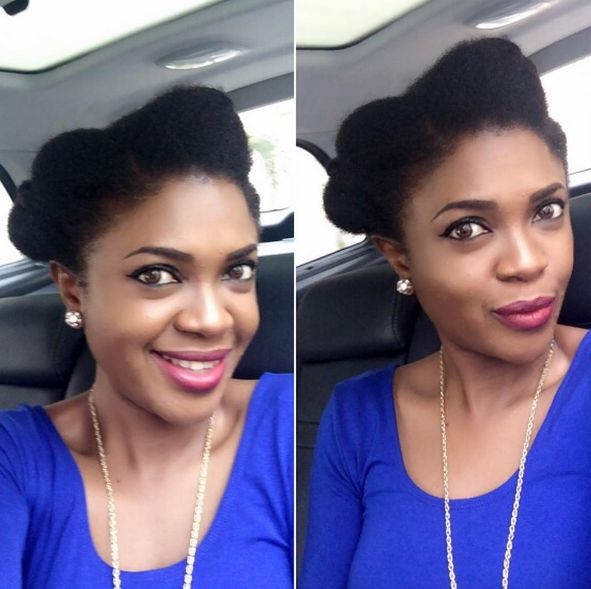 Would you be willing to take this look on?
Omoni's look here is really simple with a few tucked in puffs. You can rock this look too – all you need is to blow out your hair, then divide the hair into small sections. Take one section and braid the tip all the way to the end. After you're done, tuck the braided tip into the puffy bottom half and secure with a bobby pin. Then repeat for the left over sections. Easy!
***
We hope you picked up a thing or two. Which look are you loving the most?