1966 Counter Coup: 5 Key Players Still Active in Nigerian Politics
The Nigerian counter-coup of 1966 was the second of many military coups in Nigeria. It was masterminded by Lt Colonel Murtala Muhammed and many northern military officers of which some are still relevant in Nigerian politics.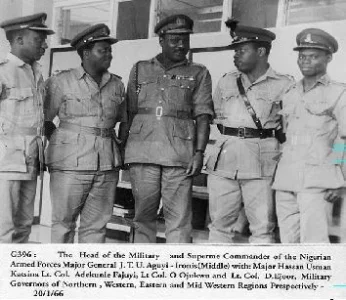 Photo credit: Vanguard
Here is a list of the 1966 coup plotters that are still in Nigerian politics:
1. Muhammadu Buhari: then a Lieutenant at the 2 Brigade Lagos, Muhammadu Buhari is currently the democratically-elected president of Nigeria.
Related: July 29, 1966: 7 Things You Should Know About The Second Military Coup in Nigeria
2. Ibrahim Babangida: The young Babangida serving at 1st Reconnaissance Squadron, Kaduna was also a Lieutenant in 1966. Although he is not holding any political position, he is still very relevant in Nigerian politics.
3. Theophilus Danjuma: He was a Major in 1966. Serving in Army Headquarters in Lagos as a Principal Staff Officer. The Jukun military officer is still relevant in politics and economy. Just yesterday, he was appointed as Chairman of ntel.
4. Abba Kyari: He was a major in 1966 and now the Chief of Staff to the President of Nigeria, Muhammadu Buhari.
5. John Shagaya: A corporal in 1966, he was elected in April 2007 to represent the People's Democratic Party (PDP) in Plateau State as member of the Nigerian Senate for Plateau South. He is still a stateman in Nigerian politics.
See full list of coup plotters: