Abubakar Mahmoud, former Attorney General and Commissioner for Justice in Kano State has emerged the new president of the Nigerian Bar Association.
In an election conducted by electronic voting (E-voting), Mr. Mahmoud, who bagged his First and Masters Degrees in Law at the Ahmadu Bello University, Zaria, polled 3,055 votes to defeat his rival, Joe-Kyari Gadzama, who got 2,384 votes.
The position of General Secretary was won by Mr. Olagunju Isiaka who polled 2,721 votes against Yamah Desmond who scored 2,510 votes.
Mr. Dajan Gal emerged as the first Vice President with 4057 votes and Mr. Monday Ubani, second Vice President with 4375 votes.
Olagunju Isiaka polled 2721 votes to emerge General Secretary as against Yama Desmond who secured 2,510 votes.
The chairman of the NBA Electoral Committee, Mr. Ken Mozia (Senior Advocate of Nigeria) while announcing the result said both the first and second Vice Presidents emerged unopposed.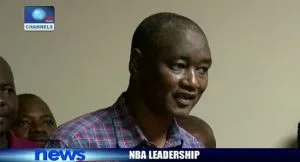 Ohagba Loe polled 2,402 votes to emerge first Assistant Secretary, while Balogun Oyeyemi emerged Legal Adviser with 3068 votes as against Onwuzuike Christopher who polled 2,043 votes.
The election was monitored by the Deputy Director, Legal of the Independent National Electoral Commission, Mariam Musa.
This is the first election conducted through electronic voting by the Nigerian Bar Association.
At the end of the E-voting process, the Chairman of the NBA Electoral Committee, Ken Mozia announced the result while the outgoing President of the Association advised contestants who lost the election to shun acrimony.