John Odigie-Oyegun, the Chairman of the All Progressives Congress (APC), yesterday, stated that President Muhammadu Buhari-led government has successfully completed the Abuja-Kaduna railway project in just one year.
Oyegun disclosed this when he and other members of the National Working Committee (NWC) took a test ride on the train from Kubwa to Jere.
He said the project's speedy completion was achieved within this period, despite attempts by past governments to break the jinx since 2006 when it was first muted.
The chairman explained that though the government of former President Goodluck Jonathan commenced funding of the project, it had however been on the drawing board for a longer time.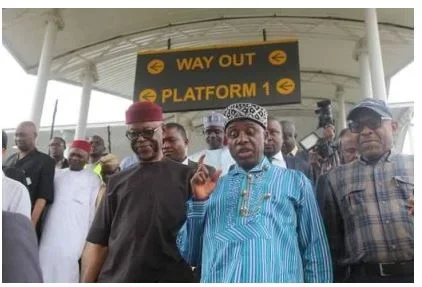 The test ride by APC's big wigs, was to prepare the grounds for its official launch by President Mohammed Buhari on July 26.
According to him, the project was successfully prosecuted because of the keen interest of the president, as well as the diligence of Minister of Transportation, Rotimi Amaechi.
"We are here to demonstrate that government is keen on development of key infrastructure in the country. This particular rail project has been a major concern to the government. The last administration contributed, but they probably didn't have the competence to complete it," he said.