Nigeria has gone through a lot in its history. From the threat to its identity posed by the imposition of a foreign culture, to the optimism at independence, down to the despair and frustrations when these optimism were not realized. The extremely varying emotions which the country's citizenry had gone through will perhaps find no better conveyance than in the pen of its talented poets.
Nigeria is a huge source material, an ever blazing furnace that keeps the fire of emotions burning in the hearts of its poets. They have found inspiration from the country's ups and downs, and they have left nothing but a most accurate, evocative and enlightening depiction of events.
We take a look at some of Nigeria's greatest poets.
Christopher Okigbo
Christopher Okigbo, (born Aug. 16, 1932, Ojoto, Nigeria—died August 1967, Nigeria), Nigerian poet who is one of the best and most widely anthologized African poets.
After receiving a bachelor's degree in Western classics at the University of Ibadan in 1956, Okigbo held positions as a teacher, librarian at the University of Nigeria, private secretary to Nigeria's federal minister of research and information, and West African editor of Transition, an African literary magazine.
He was awarded first prize for poetry in the 1966 Festival of the Negro Arts in Dakar but declined the prize because he felt that writing must be judged as good or bad, not as a product of a specific ethnic group or race. In 1967 Okigbo's efforts to launch a publishing company in Enugu with the novelist Chinua Achebe came to an abrupt end after his death while fighting in the war for Biafran independence from Nigeria.
Okigbo published three volumes of poetry during his short lifetime: Heavensgate (1962), Limits (1964), and Silences (1965). His collected poems appeared posthumously in 1971 under the title Labyrinths, with Path of Thunder.
Okigbo had a deep familiarity with ancient Greek and Latin writers and with modern poets such as T.S. Eliot and Ezra Pound, as well as with Igbo (Ibo) mythology. His poems are highly personal, richly symbolic renderings of his experiences, his thoughts on the role of the poet, and other themes. He weaves images of the forests, animals, and streams of his native Igbo landscape into works that are often obscure, allusive, or difficult. Despite this, his verse is intensely evocative and shows careful craftsmanship. Okigbo became the most widely translated of all Nigerian poets. A volume entitled Collected Poems was published in 1986.
Gabriel Okara
Gabriel Okara, in full Gabriel Imomotimi Gbaingbain Okara, (born April 21, 1921, Bumodi, Nigeria—died March 25, 2019, Yenagoa, Nigeria), Nigerian poet and novelist whose verse had been translated into several languages by the early 1960s.
A largely self-educated man, Okara became a bookbinder after leaving school and soon began writing plays and features for radio. In 1953 his poem "The Call of the River Nun" won an award at the Nigerian Festival of Arts. Some of his poems were published in the influential periodical Black Orpheus, and by 1960 he was recognized as an accomplished literary craftsman.
Okara's poetry is based on a series of contrasts in which symbols are neatly balanced against each other. The need to reconcile the extremes of experience (life and death are common themes) preoccupies his verse, and a typical poem has a circular movement from everyday reality to a moment of joy and back to reality again.
Wole Soyinka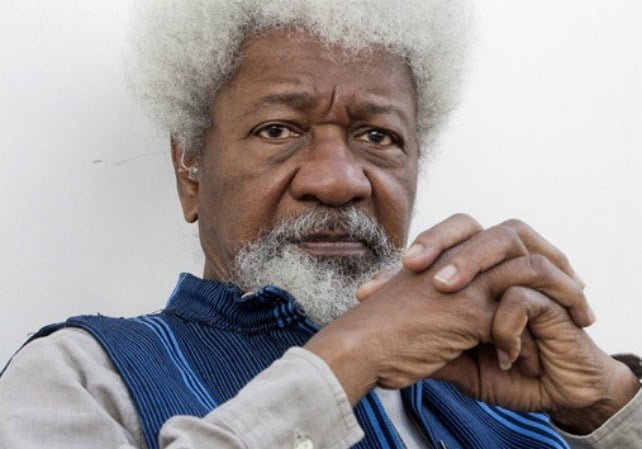 Nigerian playwright and political activist Wole Soyinka received the Nobel Prize for Literature in 1986. He was born in 1934 in Abeokuta, near Ibadan, into a Yoruba family and studied at University College in Ibadan, Nigeria, and the University of Leeds, England.
Soyinka's poetry similarly draws on Yoruba myths, his life as an exile and in prison, and politics. Wole Soyinka's poetry reflects the contradictions in his heritage. His religious beliefs are tribal, specifically the Yoruba pantheon of gods, and Christian, and his cultural upbringing draws from African traditions, opposed to modernization, and Western traditions.
Although he celebrates the complexities that are Africa, he does not romanticize his native land. He writes about the beauty of the land and the value of the African traditions and myths, and he condemns Africans for their materialism and politicians for their corruption.
His poetry ranges from lyrical to satiric, from sad to humorous. He writes in English and is known for his complicated syntax and often unusual word choices. Much like T. S. Eliot, Soyinka uses allusions from mythology and history as key elements in his poetry. Some critics state that Soyinka's poetry is unnecessarily complex, often obscure, and unreadable. However, his poetry embraces a wider world beyond Africa and speaks about the human condition, of triumph and despair, of cruelty and compassion.
His collections of poetry include Idanre and Other Poems (1967), Poems from Prison (1969, republished as A Shuttle in the Crypt in 1972), Ogun Abibiman (1976), Mandela's Earth and Other Poems (1988), and Selected Poems (2001).
John Pepper Clarke
John Pepper Clark, pseudonym J.P. Clark-Bekederemo, (born April 6, 1935, Kiagbodo, Nigeria) is often described as the most lyrical of the Nigerian poets, whose poetry celebrates the physical landscape of Africa. He was also a journalist, playwright, and scholar-critic who conducted research into traditional Ijo myths and legends and wrote essays on African poetry.
Clark's verse collections Poems (1962) and A Reed in the Tide (1965) do not display the degree of craftsmanship apparent in the work of his fellow Nigerian Christopher Okigbo; but in his best poems his sensual imagination makes successful use of the patterns of traditional African life. His Casualties: Poems 1966–68 (1970) is concerned primarily with the Nigerian civil war. Other poetry collections include A Decade of Tongues (1981), State of the Union (1985, as J.P. Clark Bekederemo), and Mandela and Other Poems (1988).
Odia Ofeimun
Odia Ofeimun was born in Iruekpen-Ekpoma, Edo State, Nigeria, in 1950. He worked as a news reporter, factory labourer and civil servant before studying Political Science at the University of Ibadan, where his poetry won first prize in the University Competition of 1975.That year his work appeared in the anthology Poems of Black Africa, edited by Wole Soyinka.
Ofeimun also worked as an administrative officer in the Federal Public Service Commission, as a teacher, as private (political) secretary to Chief Obafemi Awolowo, leader of the Unity Party of Nigeria, and as a member of the editorial board of The Guardian Newspapers in Lagos.
He studied at Oxford University on a Commonwealth fellowship. Returning to Nigeria at the annulment of the 1993 election, he wrote columns for The Guardian On Sunday, the Nigerian Tribune, as well as contributing to many other newspapers. He was chairman of the editorial board of the defunct daily, A.M. News, as well as The News and Tempo magazines.
Ofeimun is the author of more than 40 works. His published collections of poetry include The Poet Lied (1980), A Handle for The Flutist (1986), Dreams At Work and London Letter and Other Poems (2000). His poems for dance drama, Under African Skies (1990) and Siye Goli – A Feast of Return (1992), were commissioned and performed across the UK and Western Europe by Adzido Pan-African Dance Ensemble in the early 1990s, and his most recent poem for dance drama, Nigeria The Beautiful, has been staged through major Nigerian cities to wide acclaim