The All Progressives Grand Alliance, APGA, Ifeatu Obi-Okoye, has attributed the flawless conduct of the November 18 governorship election in Anambra to President Muhammadu Buhari's quest to build enduring institutions.
The National Publicity Secretary, Mr. Obi-Okoye made the assertion in an interview with the News Agency of Nigeria, NAN, on Tuesday in Awka.
He said the Independent National Electoral Commission, INEC, could not have recorded such improved performance but for the free hand Buhari gave them to operate.
The official's stance comes two days after a former National Chairman of APGA made a similar statement.
On Tuesday, Mr. Obi-Okoye said Governor Willie Obiano's second term victory was also because of the role played by security agencies before, during and after the election.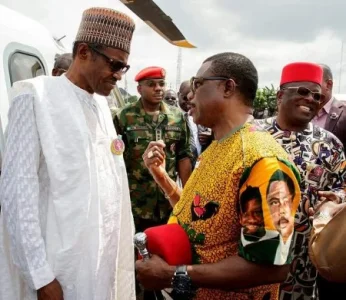 "I must commend the Police, Army, NSCDC and other security agencies for the role they played in the conduct of the election,'' he told NAN.
"Even Obiano should not take glory for last Saturday's election victory because the two major determinants of who wins or loses an electoral contest are INEC and the security agencies if they are allowed to do their jobs freely.
"Where you will not fault INEC in this election is that Presiding Officers did not write wrong results; the commission will further improve technically.
"Also, the credit must be given to security agencies for the critical role they played though their massive deployment discouraged some voters from participating.'
Governor Obiano won re-election, securing more than 50 per cent of the votes cast and winning in all the 21 local government areas of the state.