Football is a hugely popular sport around the world, and especially here in Nigeria. Fans have been delighted by the exquisite play of the Super Eagles over the years, and this dedication has seen them follow the careers of their favorite Nigerian players abroad. There is a case to be made for the argument that the movement of Nigerian players across Europe led to to the popularity of European club football among Nigerians.
A lot of these players did go on to have pretty successful careers, contributing importantly for their various clubs and bagging trophies. We take a look at the most successful Nigerian football players.

Kanu Nwankwo
The game of football is not complete without medals and awards. Since the inception of the round leather game, exceptional players have always received awards for their impact on the game. In the same vein, team members have received medals for contributing to the success of their teams. Nigerian footballers are not left out of this trend. This article brings to your awareness the most decorated Nigerian footballers of all time.
John Mikel Obi

The recently retired John Mikel Obi is definitely the most decorated Nigerian player of his generation. He had a long and extremely successful career at Chelsea, although he might not have had as much game time as he would have liked. Turned to a Destroyer from an attacking midfield position by Jose Mourinho, Mikel was always a dependable presence in the team, with his capacity to dictate tempo of play as well as find long, accurate passes playing a part in Chelsea's successful runs since Abramovic's takeover.
Mikel is an Olympic bronze medalist, a UEFA Champions league winner, a Europa cup winner, a CAF Nations cup gold medalist. He has also won the English premiership, English F.A cup, Carling cup and community shield.
Finidi George
Finidi George was born on the 15th of April, 1971. He is unarguably Nigeria's best right wing player of all time. His success as a top notch right wing player did not end with Nigeria, he was also arguably the best right wing player in the world when he was in his prime.
Finidi George is one of Nigeria's most decorated players. He won the 1995 champions league with Ajax and also won 7 other major trophies with the club. Finidi George was also a key part of the Nigerian team that won the CAF Nations Cup in 1994.
Austin "Jay Jay" Okocha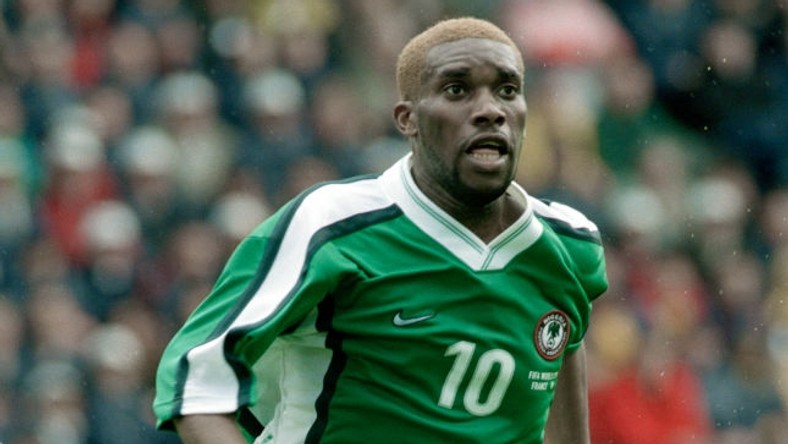 Austin Jay-Jay OkochaAustin "Jay Jay" Okocha was born on the 14th of August, 1973. Okocha began playing football in the streets of Enugu and played professionally as an attacking midfielder. Austin Okocha is regarded as Nigeria's best player of all time and also one of the best players to have come out of Africa. Although he never won the award of the African player of the year, Okocha is still regarded by other top stars as the best of the best.
Okocha was part of the golden era of Nigerian football. He won about 8 trophies with his club. Although most of them were not major trophies.
Daniel Amokachi

Daniel "the bull" Amokachi is considered one of the top strikers to have emerged from Nigeria. He was born in Kaduna on the 30th of December, 1972. His professional football career began in 1989 with Ranchers Bees. While still at Ranchers Bees, he was discovered by then Nigerian coach, Clement Westerhof.
Daniel Amokachi is remembered for scoring the first UEFA Champions league goal on the 25th of November, 1992. This was a feat achieved with Club Brugge against CSKA Moscow. Amokachi was African third best player for three consecutive years. He also won the Belgian Ebony shoes award in 1992 and 1994.
Victor Ikpeba

Popularly known as the "prince of Monaco", Victor Ikpeba was born on the 12th of June in 1973. He played as a forward and had 31 caps for Nigeria. He was a part of the successful Nigerian teams at the CAF Nations cup in 1994 and Atlanta 96.
Victor moved to Belgium to play for RFC Leigious having been discovered by the Belgian club in the FIFA U-17 world Championship in 1989. He moved to Monaco in 1993 and was able to win the league title with the club as well as emerging the second top scorer in the UEFA cup in 1996-97 season.
His biggest individual achievement as a player was becoming the African player of the year in 1997.
Taribo West

Taribo West was born on the 28th of March, 1974. He is one of the most successful Nigerian defenders of all time. Although Taribo West was a regular with the Super Eagles, he is not remembered for his many caps. He is remembered for his funny and very colourful hairstyle.
In his days as an active sportsman, Taribo played at the highest level. He won lots of medals with his club and country, some of them include the CAF African Nations cup in 1994, an Olympic gold medal in 1996 and lots of many other medals with his club.
Vincent Enyeama

Vincent Enyeama is Nigeria's best goal keeper, most successful goalkeeper and most capped player of all time. He had his debut in 2002 against Kenya. In the same year, he also went to the world cup and had his world cup debut in the goal-less draw with the English national team.
Vincent Enyeama was in goal for the super eagles between 2002 and 2015 when he retired after a fall out with the then Super Eagles coach, Sunday Oliseh.
Enyeama won the Nigerian Premier league with Enyimba international FC in 2001, 2002 and 2003. He also won the CAF champions league in 2003 and 2004. In addition to winning this medals, Enyeama has also won the CAF African Nations cup once and also several bronze medals.
Sunday Oliseh

Sunday Oliseh was born in 1974. He was a part of the Nigerian team that won the 1996 Olympics as well as the 1994 CAF Nations cup. He had 63 caps for the super eagles and also scored the winning goal against Spain in the 1998 world cup.
In his playing days, Sunday Oliseh featured for some of the biggest teams in Europe. They include Borussia Dortmund, Juventus, and Ajax. He won the Bundesliga in 2001-02 season and Eredivisie in 1997-98 season.
Emmanuel Amunike

Emmanuel Amunike was born in Eziobodo, Owerri-West, South-East Nigeria. He began his professional career with Concord in 1990. He played for concord for only a year before joining Julius Berger.
Emmanuel Amunike is the only Nigerian player to have played for Spanish giants Barcelona. Although he was with this club for four years, he only had one successful season.
Amunike was the African player of the year in 1994, in the same year in won the CAF Nations cup.
Nigerian professional footballers might not know what it means to be called "best in the world". However, they have had their fair share of glorious football moments.