The 82-year-old, Nobel laureate Wole Soyinka said in an interview on October 28, "The day Donald Trump becomes president of America, I will call a press conference and cut that card to pieces, and they will never see me in America again".
The Professor also made the statement while giving a speech to students of Oxford University, England. He said, "If in the unlikely event he (Trump) does win, the first thing he'll do is to say [that] all green-card holders must reapply to come back into the US. Well, I'm not waiting for that. The moment they announce his victory, I will cut my green card myself and start packing up,"
Nigerians have been mocking the Professor, with some even calling for a press conference to witness him fulfill his promise.
Here are some posts:
Abubakar Bada @BADA_ab

Dear Prof. Wole soyinka, Donald Trump won the election, when are you going to tear your green card?
Samuel Precious @Samuel_presh

awon bloggers when Oga WOle SOyinka destroys his Green card pls and pls Post Video…….#USElection2016
View image on Twitter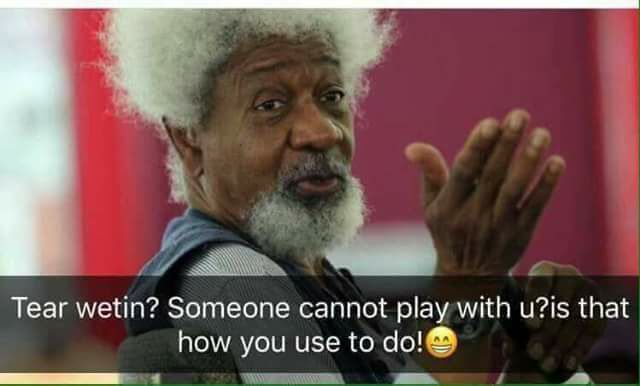 is-deciderHtmlWhitespace" cite="https://twitter.com/ayam_mayowa/status/796306905325043712" data-tweet-id="796306905325043712" data-scribe="section:subject">
Olatunji Ayobami
@ayam_mayowa
Pa Wole Soyinka we are expecting u at home #Usdecides#USElection #trump @ProfWSoyinka
ιт's Bιggιε NBM™▲ @BIGGIEsmalls147

Breaking News!

"My green card has been stolen"

– Wole Soyinka
Iheduru Leslie @iamMcLeslie

I need to watch the Green Card Tearing ceremony by Prof Wole Soyinka as itz gonna b epic .. #ChannelsTv take cover .. #TrumpRules..
Tb Joshua will blame past administration for his failed Prophesy Wole Soyinka will say Na figure of speech(irony) ??

— ᵟᵒᵑᵗ ᵍᶤᵛᵋ ᵅ ᶠᵘᶜᵏ (@iamtaofeek) November 9, 2016
ᵟᵒᵑᵗ ᵍᶤᵛᵋ ᵅ ᶠᵘᶜᵏ @iamtaofeek

Dear @channelstv kindly send a camera crew to Wole Soyinka's house. We would like to watch the passport tearing ceremony ON AIR. Thanks.