876 Views
November 21, 2016
See Lovely Photos From Atiku's Daughter, Rukaiya Abubakar Wedding Ceremony
Daughter of a great politician, Atiku Abubakar, Rukaiya Abubakar and her fiance Aminu Sani Bello tied the knot in front of family and friends in a colourful ceremony on November 19, 2016.
The big ceremony was held at the Commencement Hall of the American University of Nigeria, Yola, Adamawa State, and was attended by some of society's elite, including former Head of State, Abdulsalami Abubakar, Governor Tambuwal of Sokoto State, among others.
 The bride, Rukaiya is one of the children born to Atiku by his second of five wives, and is based in New York while her groom,Aminu Sani Bello is the son of Sani Bello, one of Nigeria's topmost businessmen, a retired Army colonel and the founder of Sani Bello Foundation.
Both the bride and groom were gorgeously dressed in white.
The bride, in a lovely dress which held firm from bust to knee before flaring into the abundant train flowing behind her, and the groom dressed somewhat simply, but no less dashing in a white garment sewn in Hausa native attire style.
The bride's father, Atiku Abubakar, seemingly overcome by emotion, tweeted after the wedding of his delight to be witnessing his daughter's wedding given how his own father died before he became old enough to marry.
View image on Twitter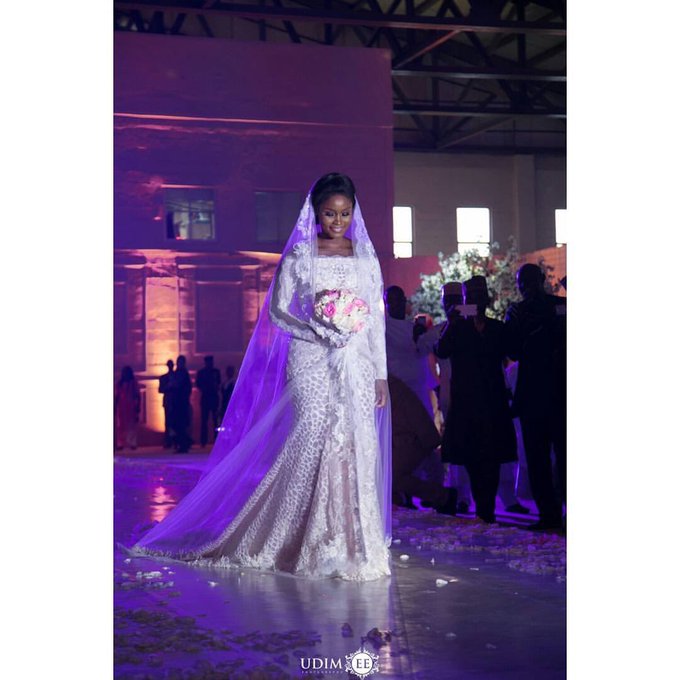 Atiku Abubakar

✔@atiku

My father died when I was a little boy. Living to see my daughters grow up fills me with immense joy.
We wish Rukaiya and Aminu all the best of marriage.