The newly released data by the Nigerian Communications Commission (NCC) show an increase in the telecommunications industry's contribution to the Gross Domestic Product (GDP) of Nigeria.
According to the statistics, this sector contributed 10.11 per cent to the country's GDP during the first quarter of 2019.
This is a 0.92 per cent increase from the 9.19 per cent recorded for the first quarter of last year. This year's contribution is also 0.26 per cent more than the figure (9.85%) recorded in the last quarter of 2018.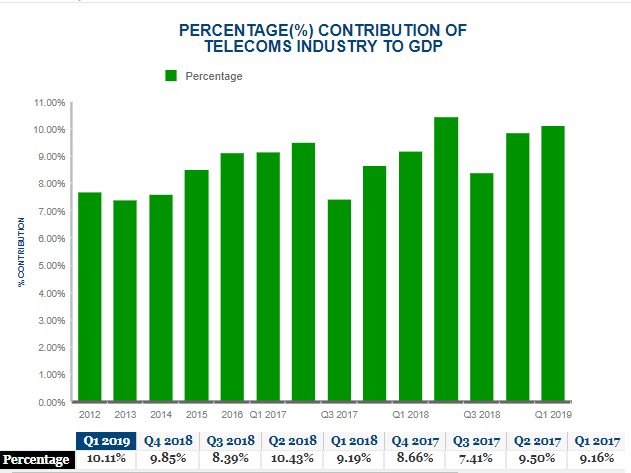 The latest Nigerian telecommunications industry data (ncc)
MTN rules Nigeria's telecom industry
These numbers show a boom in this particular industry. A deeper dive shows that most of this growth is going to MTN, which is currently the most valuable telecoms firm in Nigeria.
MTN has the largest market share (37%) in this industry as of April 2019. It boasts of over 64.7 million active subscribers not counting the 117 thousand subscribers owned by Visafone. The telecom giant bought the network back in 2015.
MTN is followed by Airtel with 26% market share (over 45.4 million subscribers) and Globacom, which has a 27% market share (over 46.38 million active subscribers).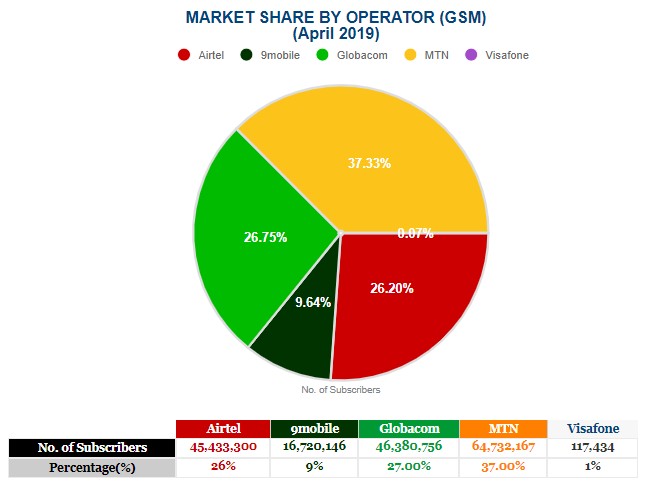 The latest Nigerian telecommunications industry data (ncc)
Last on the list is 9mobile which has a 9% market share and a subscriber base of 16.72million. The data show that 9mobile has dropped for the 23rd consecutive month.
It currently has only 9.44 million mobile internet subscribers in spite of the 3.1 per cent increase from the March figure (115,938,225) to the current figure of 119.5 million subscribers.
This is said to be due to 9mobile subscribers leaving the network in search of durability and service quality.
MTN leads with over 50 million mobile internet subscribers while Airtel and Globacom both gained up to 31 million and 28 million respectively.