849 Views
October 6, 2015
Top 10 Most Popular Job Websites in Nigeria
There are a lot of Nigerian job websites out there and you might be wondering: which are the the most popular ones? No need to wonder any longer, I have done the research based on Alexa website rankings for Nigeria. The following are the top 10 most popular job sites in Nigeria in descending order:
10. Getnaijajob.blogspot.com:
Technically speaking, this is a blog but it qualifies because of the volume of traffic it generates and its theme which is about jobs in Nigeria9. Jobemy.com:
Jobemy is a resource for the unemployed and employed professionals in Nigeria. We are also one of africa's fastest growing job boards since 2010 with several members and users in over 20 countries and territories around the globe.
Jobemy is a one stop centre for human resource solutions in Nigeria. Founded in 2010, we are now one of the leading platforms.
8. Justjobsng.com:
This website has a nice layout too and has serious growth potential because it has a relatively small following on Facebook which if it expands will make it even more popular.7
. Myjobmag.com
: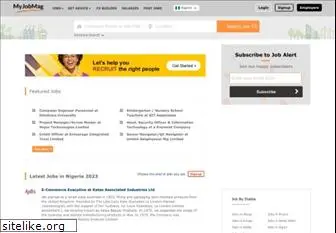 Having quite a unique interface that allows you view jobs by "Industry", "field" or "date" is Myjobmag and it has managed to attract a considerable amount of traffic to be one of the the top 400 websites in Nigeria.
6
.
Naijahotjobs.com:
Naijahotjobs has been around for quite a while with its popular job forum. It now features blog posts as well and remains a very popular job site in Nigeria.
5. Joblistnigeria.com
:
This is a very popular website and it seeks to link job seekers with employers. It also has international affiliation.
4. Nairacareer.com
:
Nairacareer combines job listings with news and information from Tertiary institutions. This combination has won it a large following and it can still grow bigger than it currently is.3. Ngcareers.com:
This website allows employers to view the profile of job seekers so that they can easily identify the best candidates for the positions they want to fill. It also allows job seekers to browse jobs by "Industry", "Specialization" and "
L
ocation". It is quite popular at No. 3 job site in Nigeria.
2. Hotnigerianjobs.com
:
Like the name implies, this website is quite hot in Nigeria and has a good list of choice job openings in Nigeria. This has helped it to become popular and is currently one of the top 50 websites in Nigeria.
Now, it is time to recognise the best of the best and top of the back when it comes to job sites in Nigeria.
1. Jobberman.com:
Jobberman is one of the fastest-growing and strongest websites in  Nigeria, it is currently ranked amongst the top 30 websites within Nigeria and has a strong team behind it and even a Ghanian version. With all of this efficiency and professionalism, there is little wonder that it is the most popular job website in Nigeria.
Congratulations to the Jobberman team for building and maintaining such a fantastic website that top employers and most Nigerian job seekers prefer (at least at the moment).
Honourable Mentions
Nigeriaonlinejobs.com just got edged out of my list at No.11 whilst Nigerianbestforum.com is a website that also has a strong job section. Last but not the least is Nairaland.com, Nigeria's largest website with a very popular jobs section.
Let me know your thoughts on this list, are there any other popular Nigerian job sites out there that you think people should know-of? What are their unique offerings or features? Kindly drop your comments below, I would be glad to read and respond to them.