The Mary Slessor building is one of the monuments in memorry of Mary Mitchell Slessor (2 December 1848 – 13 January 1915) who was a Scottish missionary sent by the United Presbyterian Church to Nigeria.
Mary Slessor was a Scottish mill girl and an unorthodox Sunday School teacher, who, inspired by David Livingstone, became a missionary in Calabar, Nigeria, an area where no European had set foot before. Despite several bouts of illness and constant danger, she lived with the tribes, learned their language, and traditions, earning their respect and putting an end to some barbaric practises, such as the killing of twins. She adopted many Nigerian children (particularly twins) who had been left to die.
When Southern Nigeria became a British Protectorate, she became the first ever female Magistrate in the British Empire and a skilful diplomatic emissary.
Issues Slessor confronted as a young missionary included the lack of Western education, as well as widespread human sacrifice at the death of a village elder, who, it was believed, required servants and retainers to accompany him into the next world.
The birth of twins was considered a particularly evil curse. Natives feared that the father of one of the infants was an evil spirit, and that the mother had been guilty of a great sin. Unable to determine which twin was fathered by the evil spirit, the natives often abandoned both babies in the bush. Slessor adopted every child she found abandoned.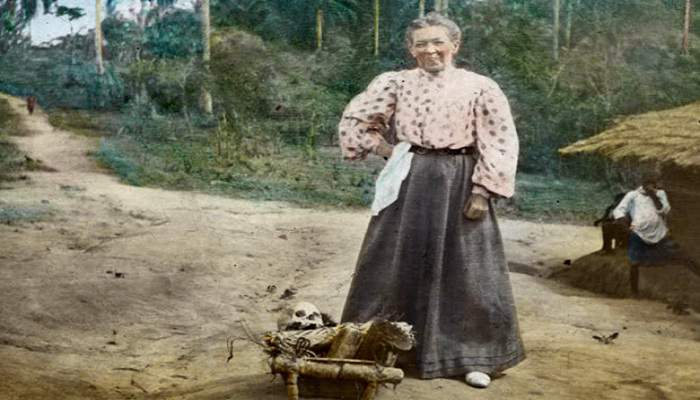 For the last four decades of her life, Slessor suffered intermittent fevers from the malaria she contracted during her first station to Calabar. In early January 1915, while at her remote station near Use Ikot Oku, she suffered a particularly severe fever. Slessor died on 13 January 1915.
Slessor's work in Okoyong earned her the Efik nickname of Obongawan Okoyong (Queen of Okoyong). This name is still used commonly to refer to her in present-day Calabar.
Slessor was a driving force behind the establishment of the Hope Waddell Training Institute in Calabar, which provided practical vocational training to Efiks. The superstitious threat against twins was not only in Calabar; but also spread to a town Arochukwu on the far west of Calabar. There is a high school named in honor of Mary Slessor. This is located in Arochukwu, a town west of Calabar, about three half hours drive away. The people of Calabar are Efik tribe though the popular Arochukwu town is in Ibo tribe. Both Calabar and Arochukwu share some common cultures and are in southeastern Nigeria, in Cross River State and Abia State respectively.[6]