UEFA Super Cup: Why We Lost to Real Madrid – Mourinho Expresses Frustration Over 2-1 Loss
Manchester United manager, Jose Mourinho, has expressed his frustration at the absence of the VAR system, which he feels would have ruled out the opening goal, as they lost 2-1 to Real Madrid in Tuesday's Super Cup in Skopje, Macedonia.
Spanish side, Real Madrid beat Manchester United 2-1 to lift the UEFA Super Cup for the fourth time on Tuesday night.Brazilian midfielder, Casemiro struck the opening goal with a left-foot strike midway through the first half before Isco doubled Real's lead just after the half-time break.
United's £75million signing, Romelu Lukaku got his first competitive goal for his new club to reduce the deficit with a simple finish in the 62nd.
But Mourinho believes his side deserved to reach extra-time as he deemed Casemiro to be in an offside position for Real's opener.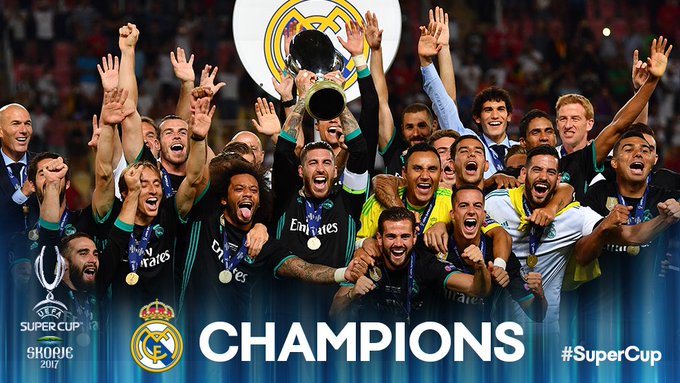 The Red Devils boss told BT Sport: "I think we did well, I think we lost to one goal which shows the result was really short and one of their goals was an offside. 
"With a good VAR system it would be 1-1 and extra-time. They could have scored more goals than they did, we could have scored more goals than we did.
"They had a period of dominance at middle of the first half and we had a period of dominance at middle of the second half.
"We were playing a team full of fantastic players, we discussed the result until almost the end. I say almost the end because with Cristiano Ronaldo coming on, because every time Ronaldo wanted a free-kick the game was stopped. 
"We gave them a fight but have reasons to leave optimistic and proud. Let's go for Sunday."